Welcome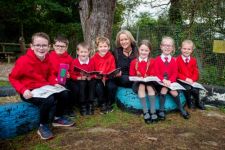 Dear Parent/Guardian,
On behalf of the Governors, Staff and Pupils I am delighted to welcome you to Carrickmannon Primary School. We have a long tradition of providing children with a wide, balanced and quality education in a happy, caring and nurturing environment.
At Carrickmannon, we are proud of our strong family and community relationships, where every child is valued and cherished. The happiness and welfare of everyone in our school community is central to our ethos and we have created a safe and secure environment in which to nurture and develop each individual child.
A website can never truly convey the real atmosphere of a school so we would invite you to come along and experience the warm welcome that awaits your child at Carrickmannon. I am more than happy to meet with you and answer any further questions you may have about our school.
Miss R Brown
Principal
Virtual Tour of our School
Upcoming Events
Monday, 25th September 2023
School Photographs
Lego Club P1-P4 (2:45-3:45PM)
Tuesday, 26th September 2023
P6/7 Fun Fit at Academy P.S.
Booster Club P7 (2:45-3:45PM)
Craft Club P4-P7 (2:45-3:45PM)
Multi-Sports P1-P4 (2:45-3:45PM)
Wednesday, 27th September 2023
Craft Club P1-P4 (2:45-3:45PM)
Hockey Club P4-P7 (2:45-3:45PM)
Thursday, 28th September 2023
Football League match (2:00-4:30pm)
Dance P1-P4 (2:45-3:45PM)
Football P4-P7 (2:45-3:45PM)
Gardening Club P4-P7 (2:45-3:45PM)
Friday, 29th September 2023
Sportstopia P1-P4 (1:45-2:45PM)
Cross Country P4-P7 (1:45-2:45PM)
Monday, 2nd October 2023
Lego Club P1-P4 (2:45-3:45PM)
Booster Club P7 (2:45-3:45PM)
Tuesday, 3rd October 2023
Craft Club P4-P7 (2:45-3:45PM)
Multi-Sports P1-P4 (2:45-3:45PM)
Wednesday, 4th October 2023
Craft Club P1-P4 (2:45-3:45PM)
Hockey Club P4-P7 (2:45-3:45PM)
Thursday, 5th October 2023
Dance P1-P4 (2:45-3:45PM)
Football P4-P7 (2:45-3:45PM)
Gardening Club P4-P7 (2:45-3:45PM)
Friday, 6th October 2023
Sportstopia P1-P4 (1:45-2:45PM)
Cross Country P4-P7 (1:45-2:45PM)